Events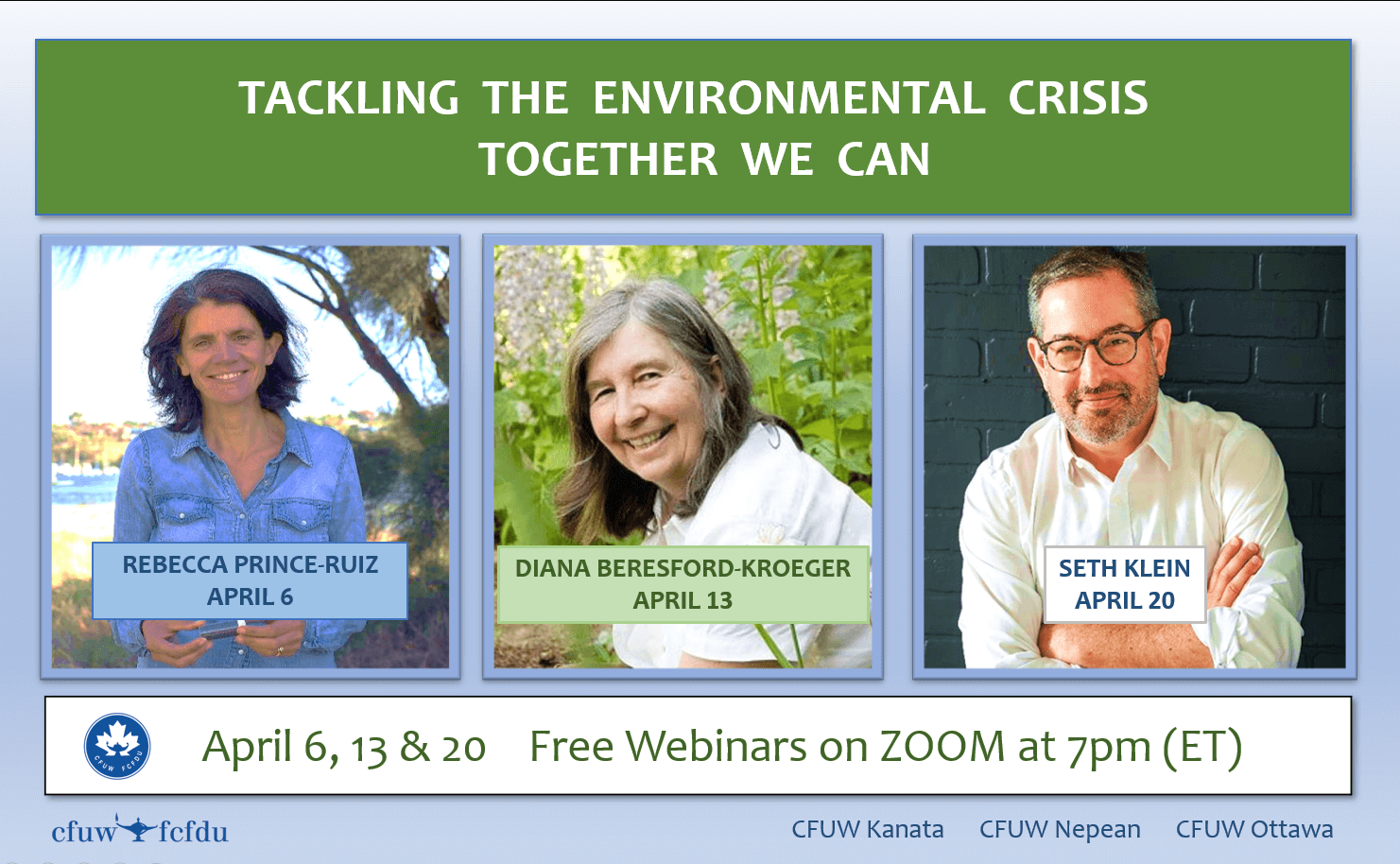 Recordings of these events are available by clicking on the following links:
Program for 2021-2022
General meetings for September- November will take place in person and on Zoom (unless otherwise determined by Ottawa Public Health) on Tuesdays at Bells Corners United Church, 3955 Old Richmond Rd from 1 – 3 pm.
September 14 @ 1 pm
Registration Meeting – $110 membership dues for the year. Cheques made out to 'CFUW Nepean' can be sent to:
Dolores Dufresne, 119 Dalecroft Cres., Nepean, ON K2G 5V8.
Speaker James Powell – The 1930s – depression, unemployment, soup kitchens, and the birth control trial.
October 5 @ 1 pm
Archeologists Stephen Jarrett and Becky Remmer discuss the discoveries excavated prior to the renovations on Parliament Hill.
November 2 @ 1 pm
Laurie Brown from the War Museum will discuss the lives of men and women during the wars through artifacts and letters.
December 7 (Zoom) @ 1 pm
Holiday Trivia Event – presented by Amica Senior Lifestyles. You are invited to dress in your holiday hats and sweaters.

January 11, 2022  (Zoom) @ 1 pm
Amber Laurie from the Atlantic Maritime Museum will discuss the Halifax Explosion which occurred in Dec 1917.
February 1 (Zoom) @ 1 pm
Canon Lawyer Sr Louise Charbonneau will discuss the lives of Sr Elizabeth Bruyère and the Sisters of Charity who worked with the poor and the sick.
March 1 (Zoom) @ 1 pm
Resolutions Discussion.
International Women's Day Event
April 5
CFUW Nepean Spring Scholarship Fundraiser special event. Guests are welcome.
Writer Valerie Knowles, will discuss the life of Senator Cairine Wilson
Location and meeting details TBD pending COVID-19 restrictions.
Donation Form
May 3 @ noon – Annual General Meeting
Diana Pepall will discuss the Code Breaking Unit in Sandy Hill during WW11
Location and meeting details TBD pending COVID-19 restrictions.
Speaker Series (Zoom only)

October 20 @ 7 pm
Unsilencing Non-State Torture – Jeanne Sarson & Linda MacDonald, authors of Women Unsilenced: Our Refusal to Let Torturer-Traffickers Win. www.nonstatetorture.org
November 17 @ 7 pm
Commander Bronwynn Guyner, veteran of the Canadian Armed Forces,  will speak about her life during and after the Forces. This will be an interactive session, so your questions are welcome.
March 23 @ 7 pm
Identity manipulation, impersonation, and deep-fakes on the Internet – Presented by Suzie Dunn, Assistant Professor in Law & Technology at
Dalhousie University's Schulich School of Law.