History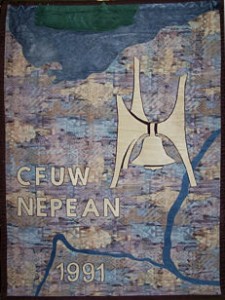 CFUW/Nepean came into being in November 1990, through the efforts of a small group of enthusiastic women who saw the need for a local club. The Charter was proudly accepted in August 1991. Since then the club has grown, developed and matured.
HISTORIC HIGHLIGHTS
November 6, 1990: Initial meeting and election of first Executive.
December 4, 1990: First Christmas Party at Ruth Bell's home, Fairfields.
May 2, 1991: First dinner and Annual General Meeting, held at Algonquin College. Speaker was Beryl Gaffney, MP for Nepean.
August 17, 1991: Mary Kathryn Mowat, President, receives CFUW/Nepean Charter at CFUW AGM in Toronto.
1992: Andree Anderson and Ann Tomlinson exhibit their completed Club banner.
April 17, 1993: CFUW/Nepean hosts the CFUW Ontario Eastern Regional Spring Gathering.
November 1996: Andree Anderson, Ann Tomlinson, Jenny Morgan and Linda Warburton get approval to set up the CFUW/Nepean Scholarship Trust Fund.
December 5, 2000: 10 year celebration of CFUW/Nepean's first meeting. Certificates given to Charter Members.
November, 2006: First Scholarship award of $500 presented to a student in the Nursing Science program at Algonquin College.
September, 2007: CFUW/Nepean organized public forum on Election Reform.
October 25, 2008: CFUW/Nepean hosts the CFUW Ontario East Fall Gathering.
October 25, 2011: CFUW/Nepean 20th Anniversary Tea.
November 1, 2016: CFUW/Nepean 25th Anniversary Tea.
CFUW Nepean Past Presidents
Mary Kathryn Mowat 6 November 1990 – 1993
Ruth M. Bell, CM 1993 – 1995
Susan Russell 1995 – 1998
Bernice O'Halloran 1998 – 2000
Joy Trott 2000 – 2002
Sue Ellwood 2002 – 2004
Kathrine Greiner 2004 – 2006
Christine Futter 2006 – 2007
Dolores Dufresne 2007 – 2011
Sue Ellwood 2011 – 2014
Sharon Carew 2014 – 2016
Marlene Sylvester 2016 – Current