Scholarship Trust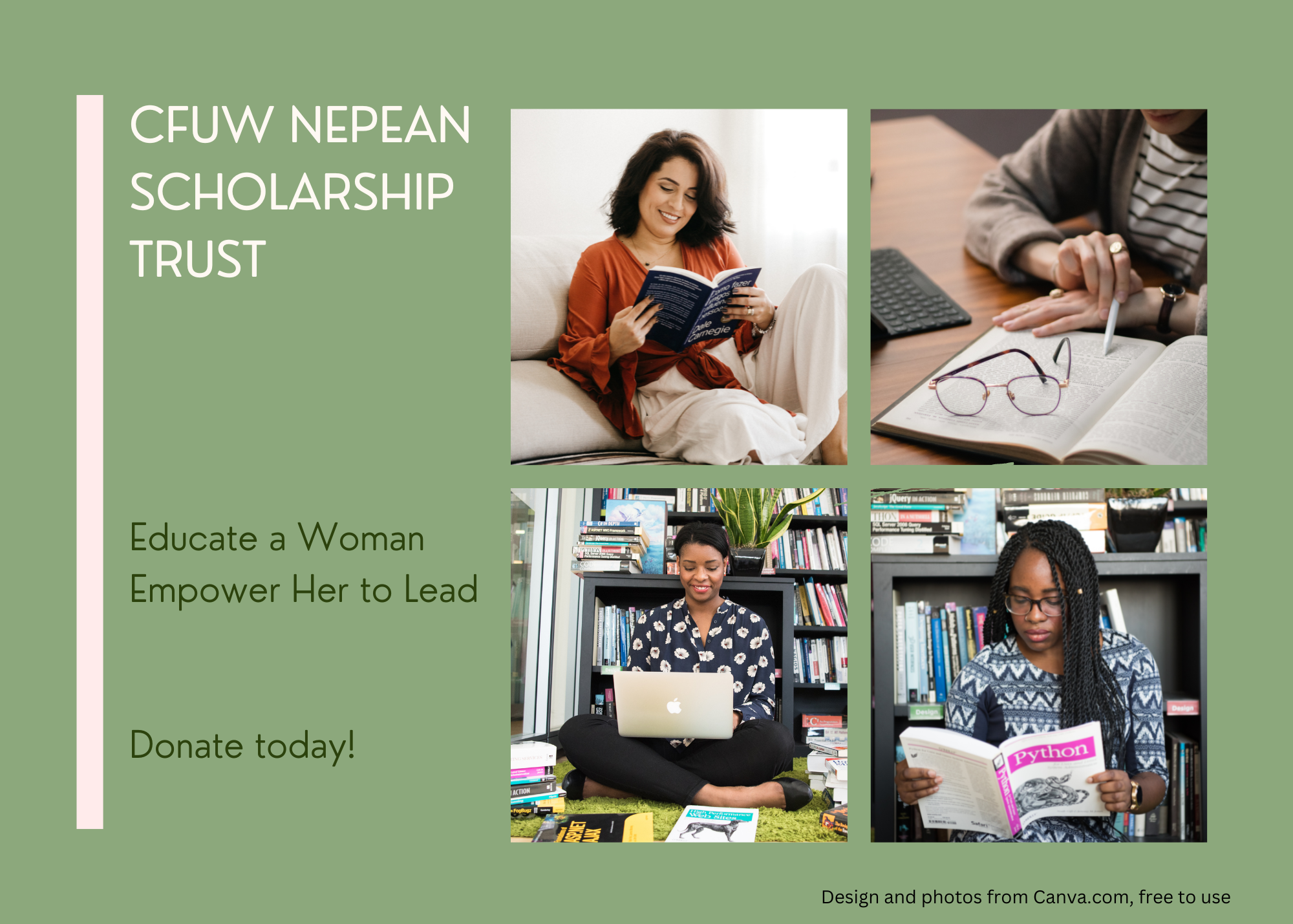 The CFUW Nepean Scholarship Trust was established in 1996.
The Trust encourages and supports higher education by established, funding and disbursing scholarships, bursaries and awards.
The Trust is a registered charitable organization, operating under Canadian Revenue Agency Registered Charity Number: 893039248 RR0001.
A five-member Board of Trustees composed of CFUW Nepean Club members manages the Trust.
If you wish to make a donation to the Scholarship Trust fund, please go to the Donation Form to see multiple options for sending your gift. A charitable donation tax receipt will be provided for any donation over $20.00. Donations can also be made online. Search for CFUW Nepean on www.canadahelps.org.
CONGRATULATIONS to the ALGONQUIN COLLEGE RECIPIENTS
of the 2020 SCHOLARSHIPS

Practical Nursing Program
Mila Robertson
Jessica Roberts
Personal Support Worker Program
Danielle Presentey
Elena Polinario
STEM – Computer Systems Technician Program
Priscila Julio da Silva
Gangani Hetanshi Prafulchandra
RESULTS OF SUCCESSFUL FUNDRAISERS AND DONATIONS
The Trust currently directs its disbursements to Algonquin College's School of Health Science and STEM We Saved You a Seat programs through the College's Foundation. As well, as of 2018 scholarships have been awarded to student residents of Cornerstone Housing for Women.
Since the fall of 2006, Scholarships and Bursaries totaling over $60,500 have been awarded to deserving students.
Trustees and Club Members hold several Fund-Raising Events each year, which, supplemented by charitable donations and interest from investments, enable the club to support these students.
Details of our next fundraiser to be announced closer to the date.