Advocacy Activities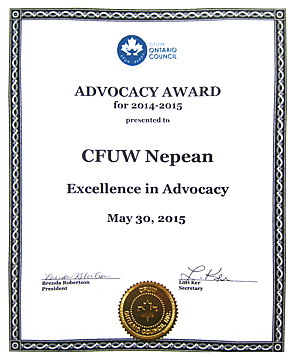 ADVOCACY ACTIVITIES FOR 2016-2017
Many thanks to Ena Gwen Jones who continued as acting Chair for the Advocacy Committee.
CFUW Nepean donated personal care items in December and baby diapers in May to Interval House.
Household necessities were donated to Syrian refugees.
As a Canada 150 project, contributed to Cornerstone who provide safe, affordable housing and the right supports for women making the transition from a crisis to a better life.
Financial donations were made to Project TEMBO to support their providing education for girls in Tanzania.
Pat Amundrud organized volunteers to work at the Ottawa Food Bank on April 18, 2017. CFUW Nepean assisted at the Jockvale Food Bank.
President, Marlene Sylvester, wrote letters to local MPs to repeal the Canada/United States Safe Third Country Agreement thereby opening Canada's doors for refugees.
CFUW Nepean Scholarship Trust Fund has donated $4000.00 to Algonquin College for four $1000.00 Scholarships to students in the Nursing Program. To date scholarships totaling $23,200 have been awarded. Two Fundraisers were held in 2016-2017.
International Women's Day was celebrated on March 8, 2017 at the Ben Franklin Centre with the theme 'NORTHERN FOOTSTEPS'. This featured France Rivet enchanting us with her book 'In the Footsteps of Abraham Ulikrab' along with music by Aboriginal Songwriter of the Year award winners Twin Flames. This is a joint effort between CFUW Nepean, CFUW Ottawa and CFUW Kanata and provided funds that go towards the 2019 Scholarships.
ADVOCACY ACTIVITIES 2015-2016
Ena Gwen Jones was the chair of the Advocacy Standing Committee.
CFUW Nepean donated toiletries to Interval House in December 2015 and Diapers, Diaper Wipes in May 2016.
FAMSAC (Emergency Food Program looked after by Bells Corners United, Knox United, St Martin de Porres RC and Christ Church Anglican) Start Up is slow by CFUW Nepean.
Metro sponsored program of collected stickers based on purchases and exchanges for cutlery (Suggestion of Mary Kathryn Mowatt) will be donated to the refugee project organized by FAMSAC.
Volunteers from CFUW Nepean, organized by Pat Amundrud, sorted and packed donated food for the Ottawa Food Bank.
President, Sharon Carew, wrote CFUW template letters to MP's.
CFUW Nepean Scholarship Trust Fund continues to be very active. Two Fund Raisers were held last year and Scholarships were presented to students in Algonquin College.
International Women's Day, held on March 8th at the Ben Franklin Centre, was a joint effort by CFUW Nepean, CFUW Ottawa and CFUW Nepean. It was very successful and CFUW Nepean receives $790.00 for a Scholarship that will be presented in 2019.
ADVOCACY ACTIVITIES 2014-2015
CFUW Nepean is a small club of nearly 40 members.
The Barrhaven Food Centre asked our members to complete a survey. Many members completed the survey in January 2015 and many of our members already volunteer at the Food Centre.
One of our members is contacting The LINC Program to volunteer with it. This is a language instruction program for newcomers to Canada. It is a Conversation Circle at the South Point Community Centre.
Letter Writing Campaign occurred during January 2015. Members agreed to write letters to MPs and MPPs around the CFUW 2014 Resolutions. The president wrote letters based on the templates sent out from CFUW on the results of the CFUW 2014 Resolutions.
The CFUW Nepean Scholarship Trust Fund is very active. CFUW Nepean members have increased the Fund Raising greatly during the last two years. Last year the Mayor of Ottawa, Jim Watson, was our guest speaker at our Spring Scholarship Trust Luncheon. This year our speaker was Hally Siddons from the Ottawa CFUW club. We are now organizing several Fund Raisers per year and instead of giving two $1000.00 scholarships per year to Nursing Students at Algonquin College, we are donating three $1200.00 per year for a total of $3600.00.
At least once a year, we donate toiletries to a Shelter For Women.
On October 31st, several of our members volunteered at the Ottawa Food Bank.
International Women's Day – CFUW Nepean worked with Kanata and Ottawa CFUW and the Ottawa Council of Women to organize and hold a successful IWD Event on March 2, 2015.Our theme was Speaking Truth to History and our guest speaker Dr. Greta Kroeker certainly made us think about our History and background as women.
Rewritten Constitution – In our newly revised constitution (May 31, 2015), CFUW Nepean members have placed ADVOCACY as one of the Standing Committees.